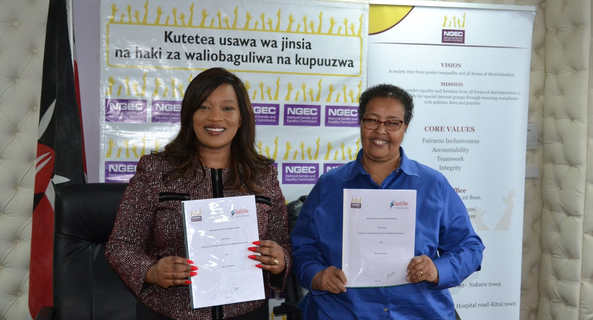 The Commission has signed a Memorandum of Understanding with Equality Now on a project dubbed, "Gender Justice: Driving SDG 5 Accountability in Kenya".
The support by Equality Now will facilitate the review of the National Monitoring and Evaluation Framework towards prevention of and response to Sexual and Gender Based Violence in Kenya and Information System. The review will also include an audit of the existing indicators and system with a view to refining and expanding them to incorporate other forms of gender based violence.
Under the agreement, the two institutions will conduct media and advocacy campaigns on integration of principles of gender equality and freedom from discrimination in all spheres of life. They will also team up to provide technical support in the dissemination and monitoring of the County SGBV Legal/Policy Framework in Kisumu, Kajiado, Narok, Kwale and Busia Counties.
NGEC chairperson Dr. Joyce Mutinda witnessed the signing by Commission Secretary Ms Betty Nyabuto flanked by Commission staff.Faiza Jama Mohamed who is the Director of Afica office represented Equality Now
Photo: NGEC Commission Secretary Ms Betty Nyabuto (left) with Equality Now's Director of Africa office Faiza Jama Mohamed